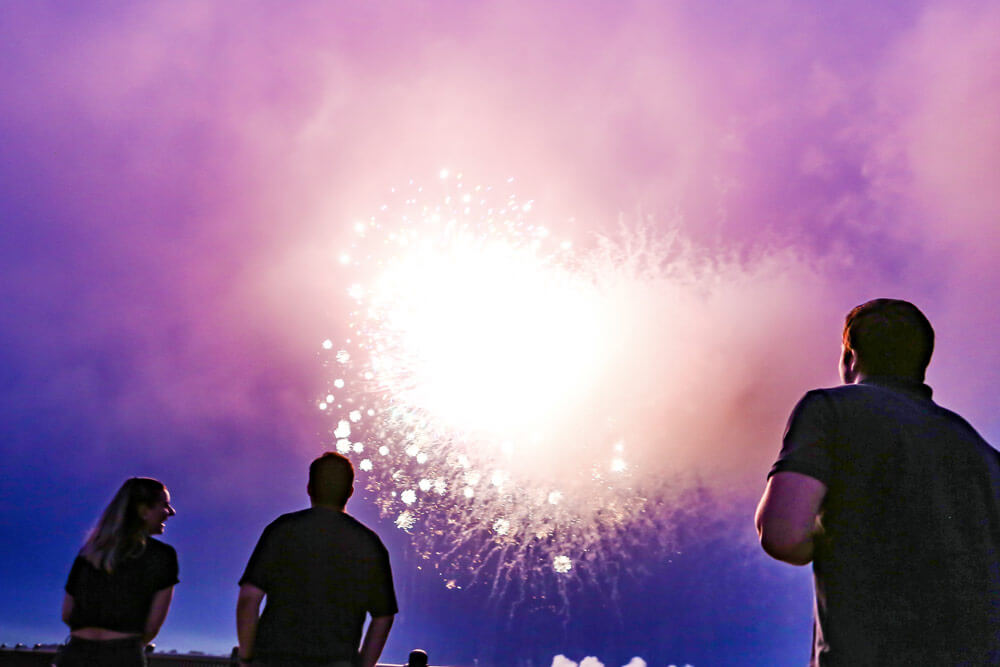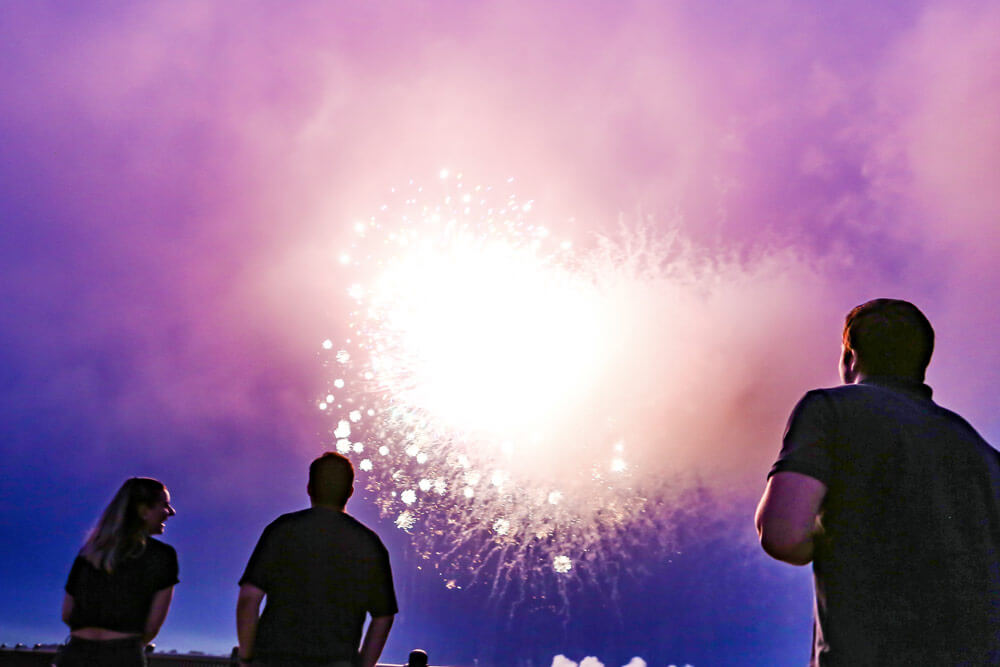 Connection, protection, and fewer clicks
When we said we wanted our guests to be glowing with excitement, we didn't mean because of a laptop in their face.
Nonetheless, we've helped our clients and friends think about how to virtually connect, educate, and entertain their guests since this pandemic took hold. The core elements of virtual events and physical events are the same – create great content, seamlessly keep the show moving, and take great care of the guests.
As governing bodies begin to lift size restrictions on gatherings, there are ways to maintain social distance to resume some real-life experiences and complement the virtual experiences that go along with them.
In this hybrid approach, we want our in-person guests feel comfortable and appreciated, and our virtual guests to feel connected and involved. This week, we wheeled around a company-wide Zoom conference to develop our checklist of best practices for the "new normal" of events.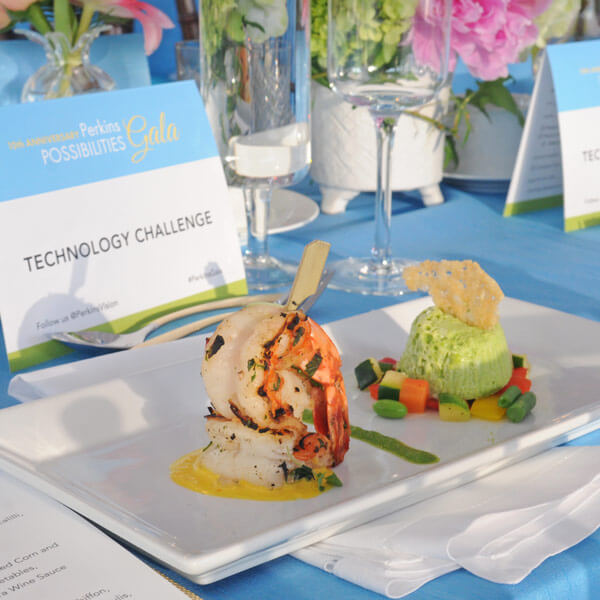 Tell everybody what's up
For one, the pre-event communication process should include notes on the hybrid invitation processes and "new-normal" precautions in place for those attending the event. "As venues reopen with reduced capacities, guests should be prepared for rooms to feel more empty," says Samantha Croteau, Account Manager. "What will help them feel involved with a bigger movement will be to see the at-home audience raising a glass virtually with them. With clever sequencing, this connection can be powerful."
Even after guests have decided whether they'll be in person or online, the pre-event communication should continue until showtime. "Even as guests arrive, we should remind them of procedures that are in place to increase spacing and to reduce person-to-person contact," adds Caroline Strouss, Account Executive. "Signage, floor decals, plexiglass, one-way corridors and aisles, and more hand sanitization stations can help do the talking for you, they can help put your guests at ease."
"Sanitization can also be included in the guest gifts and favors," says David Choate, Vice President. "From branded buffs and masks to take-home hand sanitizer or artisan soaps, guests can leave with useful stuff that reinforces the brand."
Space it out
You also want to take a look at ways to reduce grouping of people. "For one client, we've lined up a system whereby guests are given several arrival time options, and can enjoy the event within those timeframes," says Kathleen Chrisom, Vice President of Sales and Marketing. "For large events like expos, we've found that this is the best way to manage capacity."
But still, when on site, there are areas of events where folks will want to congregate. From bars to tables, bathrooms to coat-checks, we found some easy tips to help people stay safe. "You will need to add additional bars and registration areas to space out the lines," says Taylor Jacobs, Account Manager. "Beer, wine, cider, and cocktails can be distributed from separate stations, and pre-poured to reduce queuing." "We need to be prepared to part with the buffet lines," adds Rachael Patten, Assistant Account Coordinator. "The more you can pre-plate meals and pre-pour beverages, the less touching of communal items there will be." Additionally, we are prepared to seat no more than six people at 72" rounds rather than the industry standard of 10 people.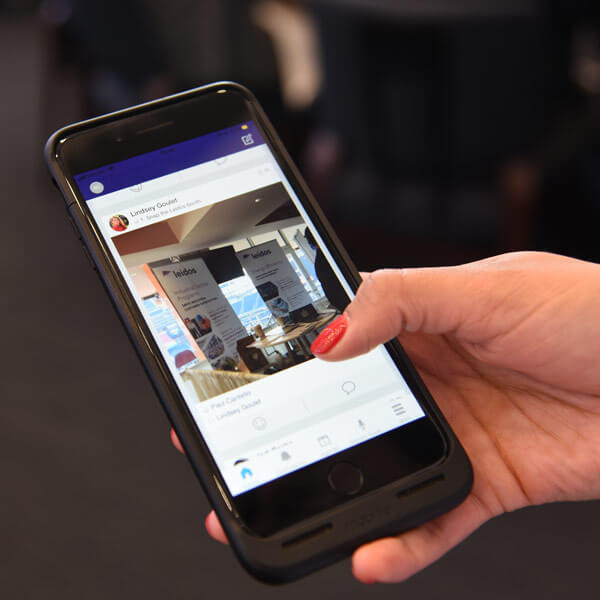 Take care of the people at home
As with any virtual event, it's time to dig deeper in video production, and in fostering the real-time connection with those toasting from afar. "Your top donors may be just as ready to give to your cause from their couch as they may be from the front row," said Dusty Rhodes, President. "When they're compelled to join the conversation, they're more likely to contribute financially."
But just as guests who arrive to the ballroom will have questions about where to get their parking validated, guests at home may have questions about finding the right link or using the right hashtag. Having a team ready to serve as a concierge for these guests is, simply, crucial. "In the same way that you want to receive your guests with a smooth check-in process, you want to be able to smoothly welcome them into the virtual event, says Aric Tao, Senior Staff Accountant. "By staffing a phone line and inbox for real-time trouble-shooting, you're making your guests feel cared for, and helping ensure they don't miss the big show."
Lastly, ensure that all guests receive the same event merchandise. If your in-person guests will receive a printed program for the event, maybe your virtual guests should as well. If your virtual guests will be given a $50 gift card to support a local restaurant, so too should your in-person guests.
Through it all, remember to be flexible, and collect feedback from your virtual and in-person guests. Make them feel comfortable and connected, and they'll stick with you for future events.