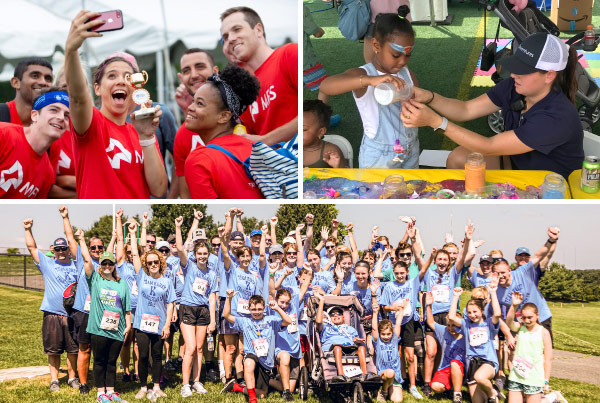 Sometimes you dodge the heat waves, sometimes you plow right through them
With the Mercury UP and summer in full swing, we were all over with the planning for a very busy fall and on-site with four fun events. They were loud, they were memorable, and they were hot.
We kept event-goers safe and fun was had by all. Read on and keep enjoying your summer!
Boston Harborfest
The Conventures team was clad in red, white, and blue as it helped produce the 38th Boston Harborfest leading up to the Fourth of July and bringing entertainment and arts to thousands. For the first time, the event expanded into Boston's historic Downtown Crossing neighborhood, with easy access to all public transit lines. One of the country's largest Fourth of July festivals, Harborfest included fireworks and a parade of lights with dozens of Boston-based vessels lighting up Boston Harbor. The Conventures team is proud to be involved in the planning of this great Boston tradition.
Click here to see more photos.
Franciscan Children's Road Race Walk/5K/10K
On Saturday, July 13, hundreds gathered together to celebrate the 12th Annual Franciscan Children's Road Race. This annual event brought people together to celebrate health, enjoy a beautiful summer day and most importantly, to support the kids and staff at Franciscan Children's in Brighton, MA. This race invited children to walk, run or wheel while adults could participate in a walk or timed 5K/10K. The Conventures team managed each detail of the event leading to very successful and fun morning for everyone. Despite the heat, it was a great morning seeing all the smiling faces crossing the finish line in support of a great cause!
Boston Children's Hospital Corporate Cup
This year's Boston Children's Hospital Corporate Cup was another great success! While the weather did not cooperate on Wednesday—forcing the day's activities to be cancelled—the second day of the event, Thursday, July 18 was a hit thanks to the planning of the Conventures Sports Team. The day began with 80 different teams, competing in soccer, 50 yard relay, biking and more, culminating in a final round of tug of war and the awards ceremony and post-event party. Congratulations to Northwestern Mutual Wellesley for taking home the trophy once again this year!
Boston Children's Hospital Family and Friends Festival
On Saturday, July 20, Boston Children's Hospital celebrated their 150th anniversary with a fun-filled day for employees and their families. Despite temperatures in the 90s, employees enjoyed massages and a variety of foods, plus activities such as caricatures, puppet shows, face painting, photo booths, soccer, inflatables, live music and most importantly, water games to cool down! The Conventures staff and Sports Team did a great job with set up, registration, managing activities and withstanding the heat!